Many Welfare Targets, Only a Few Reached 
Swaniti Initiative | February 5, 2015 | The Swaniti Blog
Date of Release: February  5th, 2015
Published in: Indian Express
BHAGIDARI: The most famous of the Delhi government's welfare initiatives was the Bhagidari scheme, which seeks to bridge the information and trust deficit between the government and citizens, and to involve citizen groups —NGOs, RWAs, market traders' associations — to a far greater extent in the process of urban planning and decision-making. In 15 years since its launch, Bhagidari has been involved in projects on water conservation, environment protection, street lighting and traffic regulation. "Gender Resource Centres" were set up to provide support to women for nonformal/bridge education, vocational training, self-help group mobilisation and nutrition advice. Around 130 GRCs were set up each year between 2010 and 2014 (Source: Socio-economic profile of Delhi, 2013-14, GNCTD).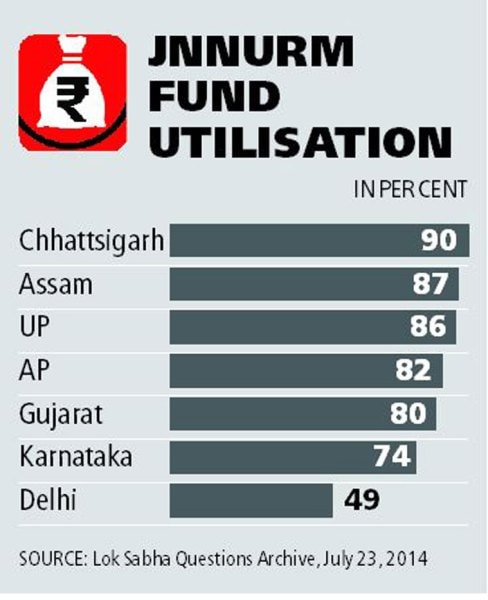 However, independent studies have also found that less than 33 per cent of ideas discussed at Bhagidari workshops were implemented, while the unorganised and slum-dwelling population has been left out of the process of decision making. This may have restricted the eventual impact of this innovative concept. The AAP claims that the Swaraj Bill — Arvind Kejriwal's pet project — will address some of these challenges.
LADLI: Launched in 2008, it was meant to incentivise the protection and education of the girl child, something PM Narendra Modi intends to make a nationwide campaign through his "Beti Bachao, Beti Padhao Abhiyan". The scheme offers cash incentives to households with annual income less than Rs 1 lakh for institutional birth of a girl child and then for her enrolment in school. Till 2014, more than 6.5 lakh girls have been enrolled under the scheme. However, as with other conditional cash-transfer schemes in Haryana and MP, retention of such girls in school would depend on the quality of education.
JNNURM: In the implementation of several key central schemes, Delhi's record has been quite poor. For example, in JNNURM, the flagship scheme for urban development and slum redevelopment launched by UPA, Delhi showed the lowest utilisation of funds sanctioned until June 2014, according to a reply in the Lok Sabha. In its report from December 2012, the CAG had observed that only four of the 28 sanctioned projects for Delhi had been completed. In 2013, the CAG observed that lack of capacity of State-level Nodal Agencies (SLNAs) and absence of a revolving fund for maintenance of the assets created were some of the problems.
SJSRY: Even in case of SJSRY (replaced by the National Urban Livelihoods Mission in the 12th Plan), a scheme to provide support for gainful self-employment in urban areas, Delhi's record in the 11th Plan Period was dismal. According to government estimates, Delhi met only 30 per cent of its target of supporting 6,200 urban poor during the 11th Plan period. Considering that the manifestos of both BJP and AAP talk about skill development and entrepreneurship opportunities for the youth, the government would need to do much more with central funds allocated to it.
There are valuable lessons from the experience of these schemes for the new government in Delhi. In the case of Ladli, which has had some success, the need would be to focus more on quality than simply numbers, while Bhagidari needs to be made more broadbased.
This data series is being published in partnership with Swaniti Inititaive